Your Friendly Specialists
Hidden History Travel first appeared in 1998 when Dr Simon Butler began operating tours to places of archaeological interest in Britain. It began simply an extension of his work as a professional archaeologist but it was a wonderful combination of interests which has since grown into a successful company.
Over the years Hidden History's expertise in archaeological travel has been developed by a network of long-standing colleagues in travel, archaeology and history who all contribute to the company's unique brand of enriching travel experiences. They are all experts in their field, such as university professors, published authors, professional field archaeologists, specialist guides and destination agents with a wealth of knowledge and experience to share. As specialists we focus on content and quality, achieved by thorough research, attention to detail, and a personal, flexible service.
Simon's career began in field archaeology and academic research, and he holds a PhD in archaeology from the University of Sheffield. His interests in heritage tourism developed from his travels as an archaeologist and guide and he has gained a wealth of experience in many destinations over many years. As Hidden History's founder and director his knowledge and insights give the company much of its personality, and he still loves to lead as many tours as his business commitments allow.
Martin is a core member of the team, helping in all aspects of the business. He brings a wealth of relevant experience from over a decade working for a number of specialist tour operators in both the UK and the USA. He has a languages degree from the University of Exeter, has travelled widely and loves the sense of discovery it brings. As he says ``the past is always there waiting to be uncovered—you don't have to be Howard Carter to be a discoverer of wonderful things``.
Barbara is an experienced researcher and lecturer with a PhD in archaeology from the University of Sheffield. Her broad experience and engaging personality are an asset to our business in many ways, from personalised tours to public relations.
Chris holds a Master's degree from the University of Cambridge and a PhD from the University of York. He specialises in the study of human remains and has worked for Wessex Archaeology and the Canterbury Archaeological Trust. He is also an experienced tour director, leading tours to Mediterranean destinations as well as in his home area of Romney Marsh on the south coast of England.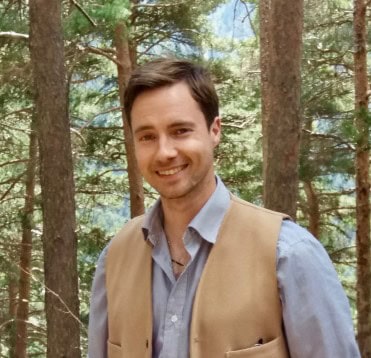 Martin's research interests have focused on medieval pilgrimage, culminating in a PhD from University College London and a growing list of publications and lectures. He has over a decade of experience on a range of excavations and projects and his latest research is focusing on the history and culture of the Pyrenees, His knowledge of the medieval world is particularly valued on our Andorra and the Occitan and our East Anglia tours.
Gary is Emeritus Professor of Archaeology at the University of Oxford, where he has taught and researched for many years. He is an acknowledged authority on Iron Age hillforts, and co-directed the recent 'Atlas of Hillforts of Britain and Ireland' project. He has directed fieldwork and led tours in the UK, Spain and Italy, and has encouraged much community involvement in his excavations and post-excavation work.
Mike graduated in history from Cambridge University and became Deputy Registrar at Oxford University, where he is now an Emeritus Fellow of St Anne's College. He specialises in medieval history, especially the Crusades, has published translations of medieval accounts of the Albigensian Crusade, and has walked the pilgrimage route across northern Spain to Santiago de Compostela.
Eireann is an Associate Researcher and Lecturer with the Open University. She has published widely on classical civilisation, and co-edited volumes on 'Death and Disease in the Ancient City' and 'Women's influence on Classical Civilisation'. She has led numerous tours exploring the ancient world, and was awarded 'Top History & Culture Guide' in Wanderlust's 2019 World Guide Awards.
Dr Nicola Theodossiev is a senior assistant professor in the Department of Archaeology at Sofia University in Bulgaria. He has directed a number of excavations in Bulgaria, written numerous publications on ancient Thrace, and led many tours through his native country.
Tony studied Ancient History and Archaeology at the University of Manchester. His subsequent career in field excavation and museum management has earned him Fellowship of the Society of Antiquaries of London. He is particularly interested in the Roman Empire, and has wide experience of leading archaeology tours.
Sandy is a field archaeologist who currently lives in Greece and specialises in Greek archaeology, especially the Minoans. His excavations and published research have included Knossos in Crete, Delos in the Cycladic Islands, and Sparta in the Peloponnese. He has led many tours in Greece.
Mark was a Senior Landscape Investigator for the Royal Commission on the Historic Monuments of England for 20 years. He has also lectured at the University of Bristol, been a regular contributor to television documentaries, and has led numerous archaeology tours.
Adrian is a passionate and energetic historian and guide who studied Archaeology and Classical Studies at the National University of Ireland, Galway (NUIG). He has a strong interest not only in classical civilisation but also in Irish history and folklore, especially around his home town of Sligo.
To help bring it all together, Dr Butler has also teamed-up with the Travel Trust Association, who provide business support services and a network of trade partners, and who oversee all legal and financial matters. Collectively this team creates an efficient, expert-focused structure which can bring you great products at great prices.
The Vision
Our trading name, Hidden History Travel, reflects the hidden nature of the past and how travel can help us explore the meanings, mysteries and insights behind its ancient ruins, artefacts and various material remains. The fascination of archaeology is due to its hidden nature, its breadth of interest and its connection with so many areas of life; society, culture, science and environment – the list is endless.
This is why archaeological travel is so enriching. It unites culture with adventure and gives real depth of insight into the world and its peoples. An archaeological tour is part of one's personal journey through space and time, and the interest never ends when the tour ends.
At Hidden History Travel, we want you to share this vision. There will always be new products to develop, new content to add, and new ways of conveying information. We want to remain dynamic so please stay with Hidden History as we develop, and keep us informed of what you think.
We combine travel, archaeology, history and culture to create wonderful holidays and worthwhile experiences.